What is career coaching?
Career coaching is an industry that has grown exponentially in the last decade.
The goal of career coaching is to empower professionals by helping them make informed decisions about their trajectory. It's a solution-based approach to career decisions.
Career coaches focus on results, actions and accountability.  They start right where the client is "now". Most commonly, they use Skype or telephone calls to interact with their clients, which enlarges the audience they can reach out to.
Career coaching can be done at any point during the work life of a professional. It can go from finding a student job at the very beginning of your career, building a new CV, negotiating specific conditions, to guiding you towards your next career step or transition, or even to retiring.
Career coaching will give you the methodology and mindset to make smart professional decisions and find your sweet spot – i.e.  which opportunities exist, what you are good at and what you want from life.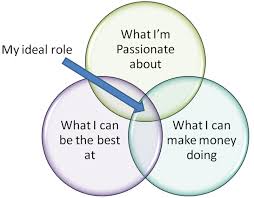 Career coaching – Venn Diagram
Access this link for more useful information about career coaching.
What are the benefits of career coaching?
Career coaching is valuable in many ways. Here, we tried to sum up the three main benefits:
You get personalized, expert advice that is tailored to your specific situation

. 

Career coaching will give you the tools to refine your next career step and set out a clear path towards success. Your coach will give you the key to assess your current career situation, identify your strengths and weaknesses as well as your differentiating factors, identify potential skills gaps and recommend actions to fill them.
You dedicate time to focus on your career. 

It's very common among professionals to have the desire to revisit their career and take on new challenges

,

but most fail to make time to work on it due to their daily routine. With a career coach you will have well-defined, realistic goals and a clear action plan, which will make it easier to organize yourself and work towards your

career objectives.
You get to test new ideas and messages in a safe environment

. 

Career coaching is a fantastic opportunity

to test and improve your pitch. Alongside an expert, you will be able to craft a compelling story that resonates with recruiters and address potential pitfalls in mock interviews. You will gain the confidence needed to build smart and convincing strategies to prove you're the best candidate for the role.
How much does it cost to hire a career coach?
That is an important question. Let's prepare a budget. Normally, the fees charged by career coaches range from $100-500 for a two-hour session.
It will depend on the coach but the sessions are usually paid upfront. The price is generally set after a free initial diagnostic session. To assess your needs, this call will also help you get a feel for the coach and their methods before deciding whether or not you want to continue.
What not to expect from a career coaching program?
A  career coach is a facilitator not a fortune teller. Don't expect your career coach to tell you what to do with your life. They will give you the keys to discover what you want. Use them as a guide and mentor to make long-lasting changes in your professional life, position yourself for success and make the most out of your skills and knowledge in order to meet your career goals. Be accountable for your career decisions.
Don't expect your career coach to do everything for you. Of course, you need to listen to your career coach's advice and learn from their tips, but more than an observant you are a doer in this process. Let the collaboration flow. Coaching does not work unless you do. Your coach won't come with you to interviews, nor will they find you a job or rewrite your CV every time you need to update it. Your coach will assist you with your career challenges and job application process but won't do it for you. Be prepared to take action!
Don't expect to not be challenged by your career coach. Your coach will make sure your career project is solid by challenging your initial ideas. They will do it until you really feel comfortable with your next career step. It is important to question your goal to make it consistent. Be open to challenges!
What to expect from career coaching?
Once you decide to take some career coaching, it is good to set objectives and have clear expectations on what  you want versus what you will get from it. So, what should you expect from a career coaching program?
From a good career coaching service, you should develop the tools and methodologies to solve any conflict or doubt regarding your career. In general terms and depending on the program objective, after going through a career coaching program, you should be able to:
Find

your sweet spot

Gain

career confidence

and inspiration

Be able to pitch yourself

in a compelling manner

Know your next career step and how to work towards it

Be able to

highlight your strengths

and minimize your weaknesses
So now you know about career coaching, what you can expect from it, and that you need some support. Next you need to know how to find a good career coach.