Montserrat Lorrent, one of our HR Experts tells about her South America Experience as an expat in Chile.
Chile is the best country for starting a new life in South America
Its similarities to the Western world help many expats mitigate any potential cultural shock. That being said, you will feel Latin America in every corner: from endless bureaucracy, chaotic traffic, street markets, informal economy to a laid-back attitude towards life, not to mention concerts, rooftops' barbecues, and so on.  You will be entranced by Chile's distinctive culture. You will discover the traditional dance Cueca, great artists such as Violeta Parra and Pablo Neruda, share some 'piscolas' with friends, learn some Chilean slangs as "cachai", "po", "weon", etc. – its aboriginal identity – mainly Mapuche, Rapanui, Atacameño and Aymaras– and will certainly identify some daily impact from its strong political history.
Chile is the gateway to doing business and fast-tracking your professional career in Latin America
Multinational companies such as IBM, Hewlett Packard, Unilever, General Electric, Xerox and Nestlé use Chile as launch pad for their business operations in Latin America. Chile holds a big advantage over its regional neighbors in rule of law, a stable democratic government and institutional quality. It has the lowest level of corruption in the southern continent and benefits from business transparency, a qualified workforce and great management capacity.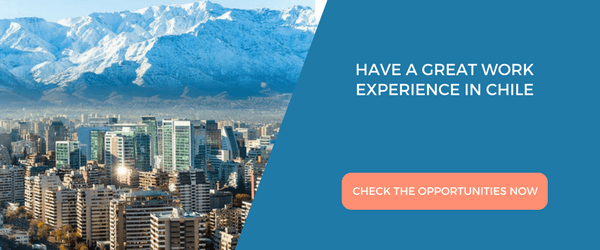 Its high standard of living makes life easier for expats
Usually, you will easily surpass European salaries resulting in slightly higher purchasing power. However, the reality is different for a huge amount of the Chilean population that struggles to survive with 400 USD a month. Being aware of this situation will help you better understand the social context of the country.
Chile is a beautiful country
Last but not least, on top of its economic advantages and opportunities to newcomers, Chile holds real natural beauty. A particular beauty that not only inspired Pablo Neruda but a great bunch of romantics from all over the world. From the Pacific to the Andes, from Torres del Paine to the Atacama Desert, Chile will take your breath away with its diverse landscapes. For trekking lovers and adventure takers, Chile is "the" destination to fall in love with.